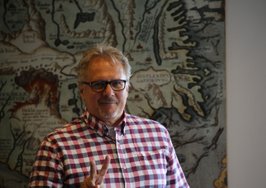 Over the years, I have given an abundance of talks, guest lectures and conference presentations. And I have naturally given different kinds of courses as part of my duties as professor and teacher.
I have recorded what I can remember of my presentations under four headings:
Invited academic talks, i.e. plenary lectures at conferences, invited guest lectures and seminars
Conference presentations, both international and national
Courses taught at different universities
Administrative presentations and presentations for the general public
Upcoming presentations
April 14–16, 2021
Örebro University, Sweden
Conference: Svenskans beskrivning 38
Invited plenary presentation:
"Dialekterna trampar inte på samma ställe i det rurala Svenskfinland – om plats och ställe på den senmoderna landsbygden" ['Dialects aren't stuck in the same place in rural Swedish-language Finland – on space and place in the late-modern countryside']
May 6–7, 2021
Åbo Akademi, Vaasa, Finland
Conference: Svenskan i Finland 19
Presentation:
"Plats och ställe på vykort till och från Wasa/Nikolaistad 1900–1920: Om framväxten av 'Det Moderna'" ['Space and place on postcards to and from Wasa/Nikolaistad 1900–1920: On the emergence of Modernity']
June 7–10, 2021
e-Sociolinguistics Symposium 23
University of Hong Kong
Marion Kwiatkowski & Jan-Ola Östman, org. of Panel/Workshop on "Unsettling the NORMs: The Sociolinguistics of immigration to the countryside"
June 14–16, 2021
MultiLing, University of Oslo, Norway
The 12th International Conference on Nordic and General Linguistics (ICNGL12)
Tomás Lehecka & Jan-Ola Östman, presentation:
"What people know and don't know about language"
June 16–18, 2020
Stockholm University, Sweden
The 12th Nordic Conference on Bilingualism (NCB12)
Jan-Ola Östman, Lena Ekberg, Ellen Bijvoet, Lise Horneman Hansen & Margareta Svahn, poster presentation:
"Migration to Rural Areas: Identity construction among dialect speakers in Sweden and Swedish-language Finland"
June 27–July 2, 2021
Zurich University of Applied Sciences
Winterthur, Switzerland
17th International Pragmatics Conference
Jan-Ola Östman, Catharina Nyström Höög & Annelie Ädel, org. of Panel on "Risk, security, responsibility: Focus on evacuation and quarantine discourse"
Jan-Ola Östman, presentation in Panel on "Interactional Frames and Language Resource Development", org. by Kyoko Ohara & Miriam Petruck
August 18–20, 2021
University of Antwerp (U Antwerpen), Belgium
Conference: 11th International Conference on Construction Grammar (ICCG11)
Presentation: "Construction Discourse: Furthering the Firthian and Pikean legacies"
RECENTLY CANCELLED due to the pandemic – possibly taking place later:
April 14–16, 2020
University of Oulu, Finland
Supervision and three invited lectures on the PhD course "Usage-based grammar: what is it and how do we apply it?"
Presentations:
1. "Construction grammar(s)!
2. "Constructions and context"
3. "Ordstäv som konstruktion" ['Wellerisms as construction']
April 29–May 17, 2020
Visiting guest professor (Fellowship) at the University of Trier, Germany
Germanistik (Natalia Filatkina), Research unit "Patterns"
Presentations:
1. on Wellerisms
2. TBA